Catalyze change for your group, team or community through facilitation with creativity at the foundation. 
Bring your website, branding and messaging into alignment by connecting your target audience with your authentic vision.
Gain next level impact by developing the people and systems that keep ideas, strategies and actions flowing. 
Coaching
Design the roadmap leading to your authenticity with the support of an experienced, certified coach. 
"From the first inquiry through completion of the workshop, Cortina was extremely professional, engaging, timely, and prepared. Her design of "The Collective Story of LEAF" was created to be a workshop that continues inspiring and informing the staff even after the workshop was completed. Her style is ingenious and fully interactive in a fresh energizing style. In one workshop, she brought forward immense depth from each participant, and then weaves us all together at the same time connecting us to the organization."
Jennifer Pickering
"Cortina participated in a 14 day intensive facilitation training with me in 2015.  In that time I saw how she is able to stand her own ground with quiet yet potent conviction, how willing she is to face her own fears, and most of all how she can hold space for a group with a deep connection to both her own creativity and the needs of each individual. If you are looking to deepen your authenticity, self-reflection and sense of purpose I believe Cortina can help you."
Nadia Chaney
"Cortina Caldwell is a dynamic community leader, expert facilitator and overall wunderkind. She can be counted on to provide leadership on a project, curriculum development for a program, or facilitation for group."
Timothy Sadler
"Cortina has brought unique and necessary wisdom to our work at Mycelium. She has engaged with us as a facilitator, a branding consultant and a creative strategist. She offers a powerful blend of experience, knowledge and intuition that is rare and deeply appreciated. The more we get to work with Cortina, the more excited we are about finding other projects to collaborate on."
Matthew Abrams
"…a nice reminder of why we're doing what we're doing. Needless to say, very appreciative of her (Cortina's) work so far and look forward to the future for the community there in Asheville."
Andy Fyfe
"As a facilitator Cortina includes every person in the conversation.  I am impressed with her savvy delivered with authenticity.  If you need someone who comes ready and understands the big picture, Cortina can help you."
Evelyn Asher
School of Leadership, Entrepreneurship, Equity & Inclusive Learning
School of Leadership, Entrepreneurship, Equity & Inclusive Learning (SOLEEIL) was founded in 2016 as a grassroots learning collective that catalyzes sustainable solutions to social needs using facilitation, training, placed-based retreats and online seminars to support today's changemakers skill up. SOLEEIL provides education, training, advocacy and support for students of all ages who believe in the power of authenticity and are action takers in their respective communities. SOLEEIL is a collaborative network of educators, facilitators, trainers, tutors, wellness practitioners, healers, and activists.
We often think about the clean air and water that forests provide us, but do we ever sit down and imagine all the unique and wonderful ways that human beings connect with forests in deeply personal ways? Dogwood Alliance took up that challenge. As part of the Stories Happen in Forests video series and the Forest Defenders program, the team created a video with me at Earthaven Ecovillage! I shared my personal story on how the forest taught me lessons about life.
Growing up in the rural, poor South I was often told not to bring too much attention to myself or make unnecessary noise. My contagious laughter had other plans. As I grew into myself throughout college and then in the professional world, I realized the very things the world had tried to wipe from my essence are the very things that I wanted to keep. Creativity, authenticity, strong leadership and feminine power…rainbow flags, quirky world views and a community as diverse as the planet. These are my treasures. As I journeyed down my own path, I re-connected with my own unique magic and made it one of my missions in life to help others do the same.
Life & Leadership Coaching
NETWORK & AFFILIATIONS: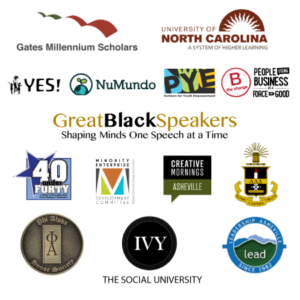 RECENT INTERVIEW:
Twice Five Miles | At Home in the World

Fertile Ground for Conversation Worth Having. Host: James Navé
PERSONAL MISSION: 
To shift community, business and organizational culture through authenticity, creativity, entrepreneurship, and leadership, ultimately seeking to innovate realms of human, community and global relations by way of facilitation, design, learning and coaching for the greater good of the world.