DESIGN & BRANDING
How It Works
Launching a startup?  Or been in business for 3+ years?  Not sure how to engage your target market besides using traditional approaches?  Let's talk!  Bring your website, branding and messaging into alignment with your authentic vision and mission with a special focus on connecting with Millennials.  Following a FREE 30-minute consultation, we will go through an iteration of the following phases together to design and implement a plan that works best for your brand, business, organization or community:
Phase One – Strengths & Opportunities
Phase Two – Roadmap Design
Phase Three – Organizational Structure | Internal Systems of Management
Phase Four – Communications & Branding (i.e. Web Design; Graphic Design; SEO; Advertising; etc)
Phase Five – Implementation & Evaluation
Phase Six – Public Relations, Brand Ambassadors & Training Development
Projects involving some iteration of design work will vary depending on your unique needs, but may include: 
Logo Design 
Web Design and/or Upgrades (with a noted proficiency and trust in WordPress) 
Messaging & Language 
Business & Technical Writing 
Manual, Handbook and Guidebook Design
Update Pre-Existing Apps & Technology w/ Your Branding
*Want to inquire about something not listed here?  Please send me a message and let's connect!
Lake Eden Events & Lodging | Case Study
The Challenge
For the past 10 years, Lake Eden Events & Lodging has been utilizing a website using a platform based on Filemaker software with little to no updates to the UX or UI.  While it has been more convenient for the business owner(s) to simply focus on customer service and providing a beautiful space for events and weddings, the conversion rates of web visitors and digital engagement was severely impacted.  With the way the previous website was set up, the website was informational only; 100% of guests interested in booking a stay or event with Lake Eden Events have to take the time to call or email to reserve. The possibilities are very high that many of those chose not to take the next step because it was inconvenient, time consuming or not achievable on their mobile devices. 
The Solution
In order to bring the Lake Eden Events & Lodging website current and catalyze a significant shift in the customer service and booking process for potential clients, the solution was a redesign.  The WordPress platform was confirmed as the best fit and most user-friendly.  Additionally, the authentic message and brand of Lake Eden Events was made a priority in the new look, layout and design of the website. Using an intuitive, efficient and communicative approach, the site was redesigned and integrated with social media sharing plugins, SEO, Google Analytics, Google Maps, web copy and professional, high quality images. Lake Eden Events & Lodging successfully positioned itself as a place where memories are made – online and offline.
Mobile Site Boosted Sales By 50%
Mobile Refresh
In today's world of digital communications, websites must be responsive for mobile devices, tablets and laptops for the ease of the user.
Rebuilt From the Inside Out
WordPress makes integration of business necessities like Google Analytics, SEO, social media, navigation tools and branding seamless.
Extensive Demographic Studies
Authenticity in branding requires knowledge of the end user, their behavior patterns, communication platforms and values.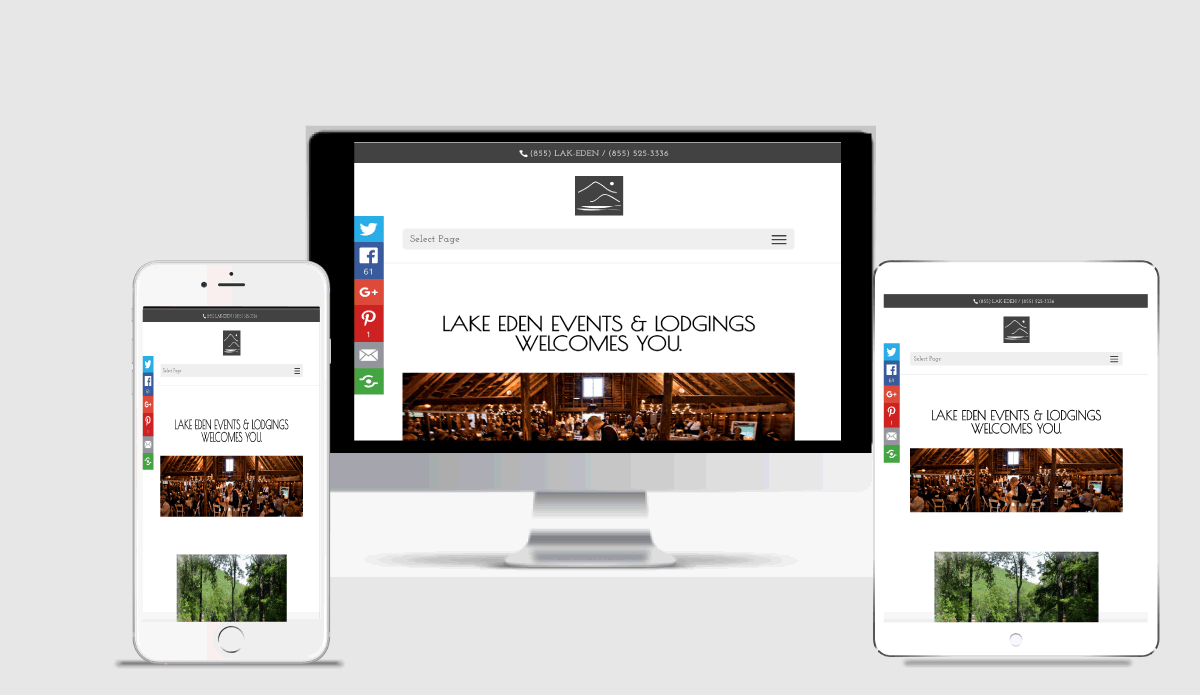 Research

10%

Harvest & Framework

20%

Branding & Design Prototype

40%

Install, Build & Integrate

80%
The Results Were Amazing
As with all projects under the CortinaJenelle.com umbrella of services, brand authenticity is the primary concern.  For Lake Eden Events & Lodging, much of the authentic voice of this space was lacking in the former website.  Boasting new website design, search engine optimization, Google Analytics and social media sharing functions – current clientele and visions for the future can be woven into a collective storytelling fabric like no other.  Truly, there is no other place on Earth like Lake Eden Events and now, families, couples, individuals, organizations and businesses can more readily find this special place in charming Black Mountain, NC.
Design & Branding Portfolio
Recent Work
Elevate Your Brand
In the age of the New Consumer, authenticity reigns supreme. If you don't know why your clients are loyal to you or how to keep them, we can help you solve the mystery and create a plan for sustainability and retention for years to come.