BIOGRAPHY
Cortina Jenelle (Caldwell) is a queer, Two-Spirit woman of Southern, West African and Iberian descent.  Originally born/raised in rural Morganton, NC, she is rooted back in the Appalachias where she calls Earthaven Ecovillage – an intentional community – home. Cortina is an authentic leader, systemic communication architect, egalitarian and highly sought facilitator for personal, organizational and community transformation. Cortina currently serves as the Founder of SOLEIL (School of Leadership, Equality and Innovative Learning) and the Community Relations Director for LEAF Community Arts.  Prior to these roles, Cortina served as the Founder & Managing Director of Visit & Venture (2011); and Co-Founder of the Authentic Communities Summit (2015).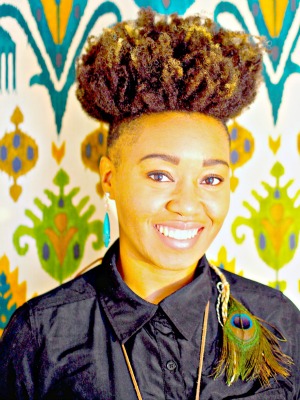 Since 2007, Cortina has facilitated dozens workshops and led keynote addresses on authenticity, innovation, entrepreneurship and creative community building across the Southeast United States with leading organizations such University of NC at Pembroke; University of NC at Greensboro; Guilford College; East Carolina University; Appalachia Funders Network; Mountain BizWorks; Appalachian State University; Handmade in America; Mycelium School; Haywood Community College; Caldwell Community College & Technical Institute; Asheville Area Arts Council and numerous others.  In the recent past, Cortina has been recognized as the WNC Minority Enterprise Development's Emerging Entrepreneur of the Year (2012); 40 Under Forty: Asheville (2013); and an inductee to Leadership Asheville (2014).  Her work in education, hospitality, non-profit management, sales, leadership, entrepreneurial development, communications and branding creates a cross-pollinated container for dynamic leadership, facilitation and development for any client she works with.  
Cortina holds a Masters Degree of Arts in Management & Leadership; a Bachelors of Science in Business, Education & Social Science; is a graduate of the Mycelium School Winter Learning Journey; and is a Certified Facilitator according to the PYE Global methodology.  Cortina considers herself a seeker of higher knowledge on a quest to get to the root of happiness in life and is therefore continuously pursuing training and learning opportunities around village building; nature-based education; leadership; activism; herbalism; alternative wellness and equality and human rights for the LGBTQ community. 
---
QUOTE I LIVE BY
"Our deepest fear is not that we are inadequate. Our deepest fear is that we are powerful beyond measure. It is our light, not our darkness that most frightens us. We ask ourselves, 'Who am I to be brilliant, gorgeous, talented, fabulous?' Actually, who are you not to be? You are a child of God. Your playing small does not serve the world. There is nothing enlightened about shrinking so that other people won't feel insecure around you. We are all meant to shine, as children do. We were born to make manifest the glory of God that is within us. It's not just in some of us; it's in everyone. And as we let our own light shine, we unconsciously give other people permission to do the same. As we are liberated from our own fear, our presence automatically liberates others." – Marianne Williamson
---
PERSONAL STATEMENT

My personal mission is to shift community, business and organizational culture by placing a high value on authenticity.  I seek to celebrate differences as bridge(s) to connection and innate creativity – especially related to human resources, business development, communications, branding, learning and community organizing/building. 
---
SPEAKING OUT FOR AUTHENTICITY
---
AWARDS & HONORS
2013 – 40 Under Forty: Asheville Honoree
2012 – Recipient of the Emerging Entrepreneur of the Year Award, WNC Minority Enterprise Development
2009 – Lloyd International Honors College Graduate: Social Work, UNC Greensboro
2006 – Bill Gates Millennium Ambassador & Mentor
2005 – Alpha Lambda Delta Honor Society Inductee
2004 – Bill Gates Millennium Scholar Program Honoree